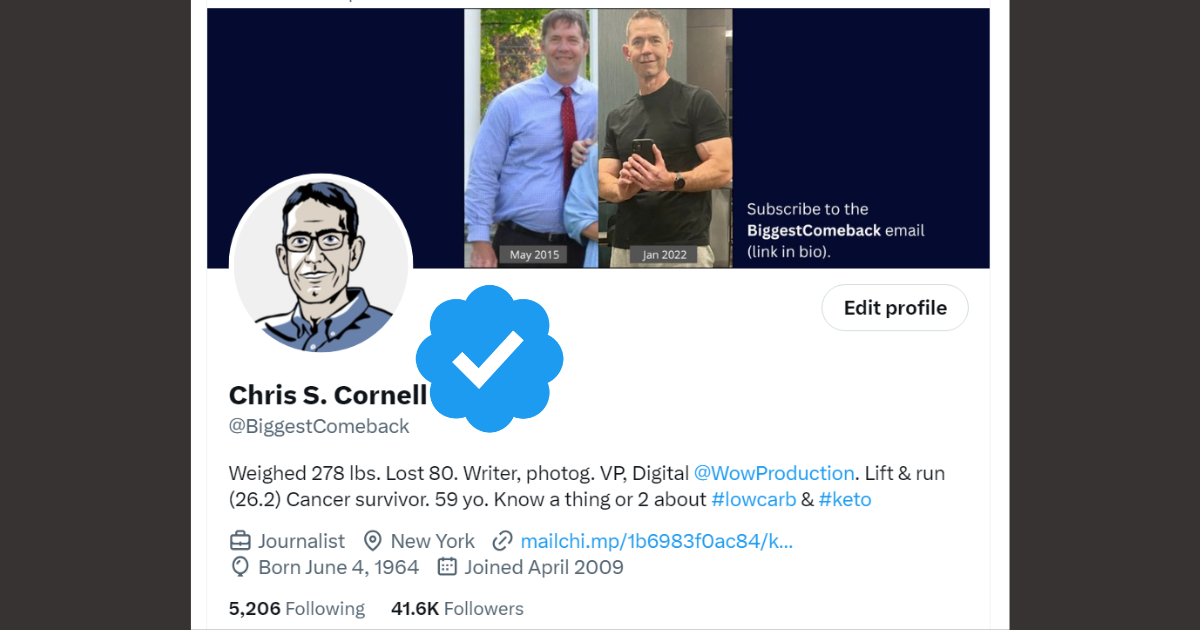 14 Sep

Why I Decided to Pay for the Twitter Blue Check – After Holding Out for 10 Months

The allure of Twitter's (now called "X") blue check verification has been a topic of contention since it shifted to a paid model last year. For 10 months I held out, evaluating its worth from afar. But before explaining why I finally caved, allow me to share my journey.

In my early 50s, my weight had reached 278 pounds. Climbing just a flight of stairs left me winded. Chin-ups? Not a chance. Running even a mile wasn't in my sights. My relationship with the Twitter community was familiar, but there was frustration in not harnessing its full potential.

My perspective changed in January 2018. A transformative book on therapeutic carbohydrate restriction caught my attention, leading to profound life changes.

I began sharing my experiences on Twitter: an 80-pound weight loss, a victorious fight against cancer, the exhilaration of a marathon finish at 58, and a bench press of 300 pounds at 59. Through these milestones, I saw the value of N=1 experimentation, relevant to both health and fitness, but also in professional domains like digital marketing and audience engagement.

My journey involved adopting a low-carb lifestyle, fostering a growth mindset, and amassing an engaged online community of more than 40,000 followers. Each chapter built upon the previous, and learning continued. [Discover more about my transformative journey here.]

With that context in place, let's circle back to the topic of the Twitter blue check…

I hesitated when Twitter (now "X") unveiled its $8/month verification, but it wasn't really about the cost. It was more about the principal. With 40,000 followers (growing organically at a rate of about 1,000 per month), and up to 2.5 million monthly impressions, I felt like it might be more appropriate for Twitter to be paying me.

And then it happened. Twitter began compensating users for engagement. Seeing top-tier users flaunt significant payouts prompted some research. The conclusion? While payouts will not be large at my current engagement levels, they'll likely offset the subscription cost. I figured, what the heck, and decided to give it a shot.

It turns out, there are some very tangible benefits to the subscription I hadn't really considered until I had a chance to try it out.
Longer Posts
The biggest draw for me to subscribe was the ability to craft tweets longer than the 280 character limit imposed on non-subscribers. Longer posts allow subscribers to post up to 25,000 characters. You can also compose longer posts in a Quote or reply. I particularly value the ability to respond to a tweet with a single comprehensive reply and not have my message split up over several tweets. 
At first, I resisted making long-form original Tweets, because I've seen so many users abuse the privilege with rambling missives… but after a few weeks I've learned there is a time and a place for longer tweets, as long as the content is engaging, informative, and to the point. I've also learned that in order to get good engagement on a longer form Tweet, you must ensure that there is some curiosity piquing content "above the fold", otherwise few people will click the "more" link and they'll simply scroll past. A compelling article (as opposed to a thread) is far easier for people to share effectively with others who are not on the Twitter platform.
Here's an example of a longer-form tweet I made earlier this week related to strategies for hitting 10,000 steps per day to improve one's health and fitness. It has generated 90,000 impressions and nearly 150 replies.
Edit Posts
This feature gives subscribers a one-hour window to make a limited number of changes to published posts. You can use it to make updates, tag someone, or reorder the media you attached. This feature currently only applies to original posts and Quotes. I don't think I've used this feature more than once or twice, but there will certainly be times when this will come in handy, even if it's just to correct an embarrassing grammatical typo (their vs. there; its vs. it's). This could be a lifesaver for anyone managing tweets for an organization, especially on a tweet tagging other accounts that has already started gaining significant engagement. It's so discouraging when you have to delete a good tweet because of a typo or other simple mistake (like tagging an unintended account).
Expanded Features
There is a long list of additional features that are available to subscribers, but here are a few I that I have found most useful:
Fewer ads:

See approximately 50% fewer ads in the

For You

and

Following

timelines.

Prioritized rankings in conversations and search:

Posts you interact with will receive a small boost in their ranking, and your replies will receive a boost that ranks them closer to the top. 

Top Articles:

Top Articles is a shortcut to the most-shared articles in your network. This feature (available on x.com) automatically lists the most-shared articles from people you follow—and people they follow, too—so you can easily find the type of content you want to read. I've found this to be a very useful curation tool, and was pleased to see one of our recent WOW Production Services articles featured (see image below).

Reader:

Turn long threads into a simplified reading experience (on x.com). Activate the Reader feature by tapping the icon at the top of the thread, and the entire conversation unfolds in one seamless view.

Longer video upload:

Share more content with your followers. Premium subscribers can upload videos up to ~3 hours long and up to 8GB file size (1080p) (on x.com and X for iOS only).
A few other features look interesting and potentially useful, including bookmark folders, custom app icons, and custom navigation, but I haven't yet had the opportunity to fully explore them.
Check out the complete list of features here.
The Bottom Line? 
The decision about paying for a blue check really shouldn't be about vanity.
Let's face it, everyone knows the blue check comes with a price tag. Gone are the days when it was an emblem of status.
But if paying a few bucks a month helps you curate information faster, create more useful engagement, and leads to more desired actions from targeted individuals, it could be money well spent.
Since acquiring the blue check three weeks ago, my account's impressions have surged by 35%. While it's tempting to attribute this to the blue badge, I believe my heightened engagement with the platform, exploring its new features, has played a significant role. Additionally, the abilty to author longer posts likely contributes to this uptick.
In retrospect, I probably should have pulled the trigger earlier. The decision to subscribe will certainly hinge on how much you (or your organization) uses the platform, and the goals you have, but for anyone who uses the platform regularly, the advantages seemingly justify the modest fee.