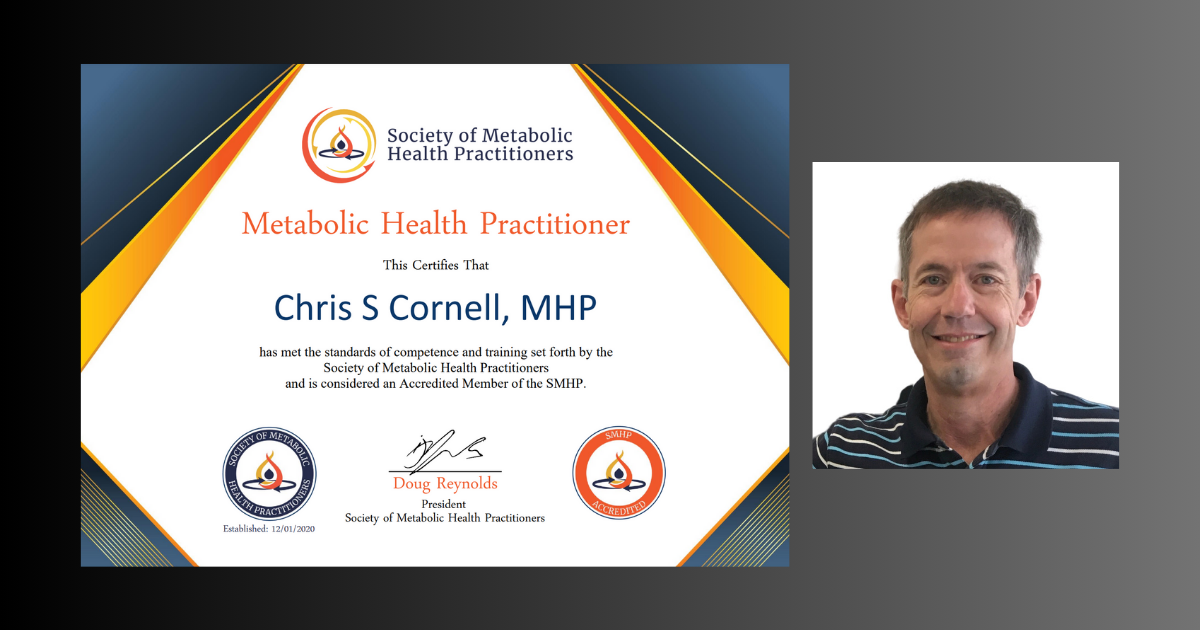 07 Oct

Beyond the Biggest Comeback: My Certification in Metabolic Health

I am thrilled to announce that I've earned my certification as a Metabolic Health Practitioner (MHP) from The Society of Metabolic Health Practitioners (The SMHP™). This milestone reflects an ongoing commitment to my health and fitness journey, one that I've been privileged to share with over 42,000 followers through my "Biggest Comeback" weekly emails and social media platforms.

Metabolic health plays a pivotal role in preventing and managing a wide array of medical conditions, with therapeutic carbohydrate reduction serving as an invaluable tool. While my own journey in health and fitness is deeply personal, it's also professionally motivating. This MHP certification allows me to deepen my understanding of metabolic health, thereby offering enhanced value to clients in the metabolic space who I work with at WOW Production Services.

As part of my role in digital marketing, my focus has always been on authenticity and effectiveness in brand promotion. This new accreditation lends additional credibility and depth to the work I do, especially for clients in the health, fitness, and not-for-profit sectors. With this certification, I can offer an even richer knowledge base to clients and followers alike.

Commitment to learning has been a consistent theme throughout my career. Whether it was gaining a deep understanding of copyright and creators' rights while working with organizations like the Motion Picture Association of America and the Copyright Alliance, or diving into the subject matter of individual films to enhance their digital marketing, I've always sought to enrich my expertise to serve clients better.

I must express my deepest appreciation for the visionaries at The Society of Metabolic Health Practitioners, Nutrition Network, and LowCarbUSA. Their exceptional training courses, education resources, and symposiums have not only enriched my understanding but also significantly contributed to global metabolic health. Their tireless efforts to support scientific research in this critical field are commendable.

I'm incredibly excited about this new chapter. As I continue to write, interview experts, and share compelling stories, my unwavering goal remains: to inspire and empower individuals over 40 to reclaim their health and vitality, and to provide clients in the metabolic health space with the best of my ever-growing expertise.

Thank you for your ongoing support and encouragement. Together, we can aim for a future filled with better health, greater vitality, and an improved quality of life for everyone. Please feel free to reach out if you are interested in discussing how we can help you reach your goals. I'd love to talk with you about your journey.